By Matt King
Sentinel staff writer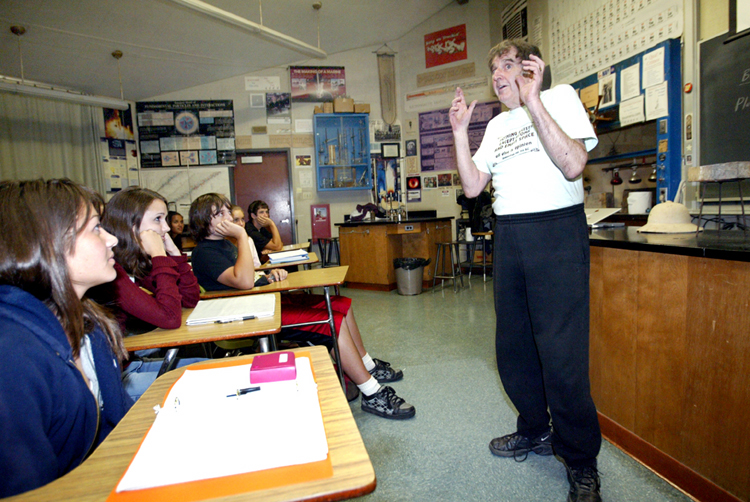 FELTON — The Boom has a note in his permanent file: He's a bad influence on young teachers.
Preston Boomer's crime was to try to sneak out of a mandatory staff meeting, or as he would call it, a pooling of ignorance, so his principal at the time wrote him up.
A decade later, Boomer, or as he and everyone else calls him, Boom, is still at it, entering his 50th year of teaching science at San Lorenzo Valley High School. The Boom gets too much of a thrill from blowing up stuff to retire. He plans to die at his demonstration table.
"I'm just having fun," he said recently, gesturing to the tall grass of Boomeria, his estate in Bonny Doon. "If I were here, you see all those weeds out there?"
So Boom won't retire, and at 74, with mostly black hair and a body lean save a well-earned paunch, he's so youthful and kid-like that no one shrinks from joking about his death in the classroom. It's so far off, it's funny.
The Boom's wife, Sara, says that "he'll retire feet first." His colleague of 20 years, William Winkler, thinks The Boom has another 50 years in him.
"You get these young teachers, and they haven't got a fraction of the energy he has," Winkler said. "He's super enthusiastic, he loves teaching. ... He's been a huge influence on me. Preston Boomer is a showman, and he loves to do demonstrations. I have taken that to heart."
The Boom's reputation on campus is that he's crazy; the polite word is eccentric.
"I knew about him in junior high; he's infamous," said student Alex Silverman, who has Boom for chemistry this year. "I knew that was he innovative and that he was old."
The Boom teaches physics and chemistry, the jagged rocks that dash medical school dreams but make his classroom exciting to the most indifferent student.
Ten minutes into the first day of school and something's on fire. On day two, he demonstrates how Friar Roger Bacon discovered gunpowder.
"His classroom was always explosive," said retired teacher Bob Kemp. Kemp taught at the high school for 32 years, 18 in a room next to Boom's. "You'd hear the explosion and the applause of the kids. There's always noise coming from his classroom."
In the first three days of a new year, Boom gives his chemistry students the history of the natural philosophers with a computer-driven presentation that's supposed to be beyond the grasp of a man his age.
He was one of the first teachers in the area to incorporate computers into his curriculum, starting in 1983 with the Apple II. He finds lectures on particle physics boring and is amazed that some teachers don't know how to use e-mail.
"All the new technology makes it a lot more fun and colorful," Boom said. "How do you draw a diagram of a mass spectrometer on a chalkboard?"
Boom's lecture style is equal parts sideshow and lounge act, with lame jokes and a wardrobe of sweat pants and "lesson-plan T-shirts" with punch lines like "If you're not part of the solution, you're part of the precipitate," and "300,000 km per second. It's not just a good idea, it's the law." For his lectures on natural philosophers, he wear a shirt that says "Nothing exists but atoms and empty space. All else is opinion," a quote from Democritus.
While discussing Galileo, Boom asks his students to consider that they might not exist if not for the repression of science prior to the Enlightenment. Had technological progress not been delayed, he said, the age of global warming might have come long ago.
"If a thousand years ago, people were living like we live today, killing the planet fast," The Boom said, "we wouldn't be here today."
The Boom was born in 1932 in San Jose. His grandparents, who had enough money to hire a servant, lived on property adjacent to his boyhood home.
They were early diners, and most nights, Boom would grab his first dinner at their house before traipsing back to his parents for another.
If he wanted more dessert, his grandmother would ring the servant's bell and announce "Jung, Sonny would like another dessert."
The Boom and his wife are still eating on that table, with the buzzer still attached. Their house is full of hand-me-downs from grandparents, period pieces and curiosities of another age, and heavily accessories with flat-screen TVs, lap tops and computer editing equipment.
Sara, who first met Boom in 1966 when she was his student, had the good sense to retire from her job at Bank of America. She has written several software programs Boom uses at school. She loves to travel, but doesn't do it with her husband.
"Remember those shirts she got me in Greece and London? I wasn't there," Boom said. "I was home having hot dogs and wine. Two-buck Chuck and the Travel Channel, and you see everything."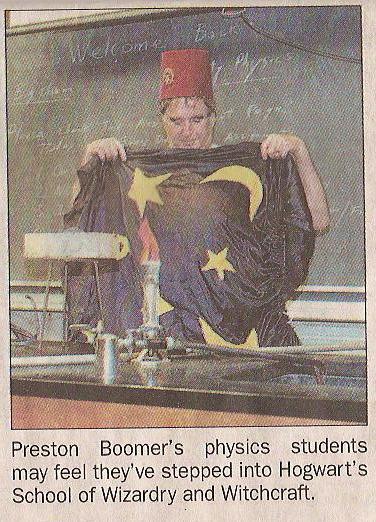 The Santa Cruz Sentinel part 2:
Physics Phantasyland: Mr. Boomer builds his dream house
by MATT KING
SENTINEL STAFF WRITER
Preston Boomer's 'engine room' is crammed with working pumps, pipes, instruments, dials, and whistles.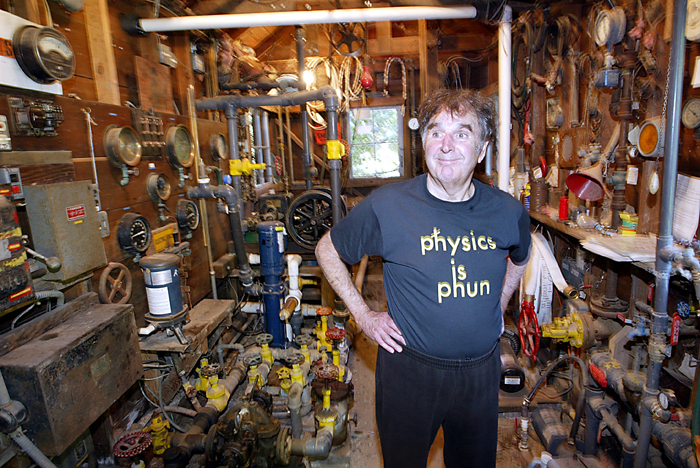 BONNY DOON—When Preston Boomer was a kid growing up in San Jose, he entertained himself in the forts he built on his grandfather's estate. He devoured Frank L. Baums's books about Oz, the kind of books about castles and catacombs, "that inspire a weird kid," the man everyone knows as Boom said.

"I tell the kids now, it's not weird, it's unique."
Now that Boom is 74, sort of, he's entertaining himself on his own estate, Boomeria, in some of the most elaborate forts ever constructed Boomeria is unique, and a little weird.
The man has a reputation for eccentricity, for being a little crazy. Here's one reason why: over the last 50 years, Boom and his students from San Lorenzo Valley High School, have constructed a network of caves under Boomeria. You know, just in case.
"He's still a kid at 74" Boom's fellow science teacher, Jane Orbuch said, "He is a treasure of Santa Cruz County. The eccentric weird science wizard."
Boomeria is the Disneyland of backyard workshops, if Disneyland had a guillotine, an engine room that powers an 88mm water cannon atop a battle tower, and a skeleton of, well no one really knows. It looks like a tiny dinosaur. They found it digging the tunnels and it hangs, skull mummified in spider webs, in Boomer's command center, which is full of contraptions monitored by steam engines.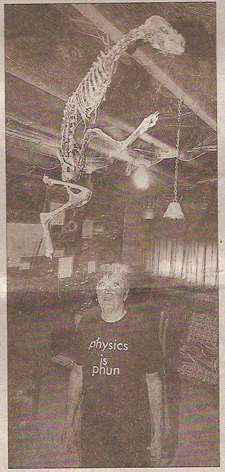 Like Boom, Boomeria is constantly in motion, forever making noise. Mimicking his youthful days in the U.S. Naval Reserve, Boom rings a watch bell every four hours beginning at 0800 hours. An old clock in his house chimes every fifteen minutes.
Everywhere in Boomeria is a buzzer, or a siren, or a horn sounding. Then there's the deafening pipe organ housed in the Chapel Royal. The organ, built by his students nearly 50 years ago as a master project in inverse feedback systems, is loud enough to blow a death metal band off stage.
"Noise", The Boom said, "it makes things interesting."
Boom built Boomeria shortly after he moved to the area in the mid-1950s. It is full of toys that he uses to teach his students physics and mechanics. And Boomeria is a gathering place for children who swim in Boom's pool or attend the Santa Cruz Community Celtic Music Camp he hosts every year.
"I just love having the kids around," Boom said. "It's really fun."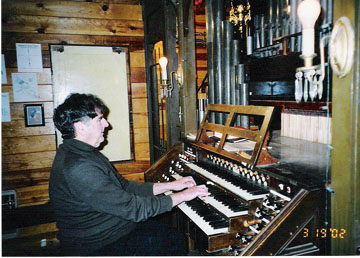 The Claw, San Lorenzo Valley High School
June 1, 2007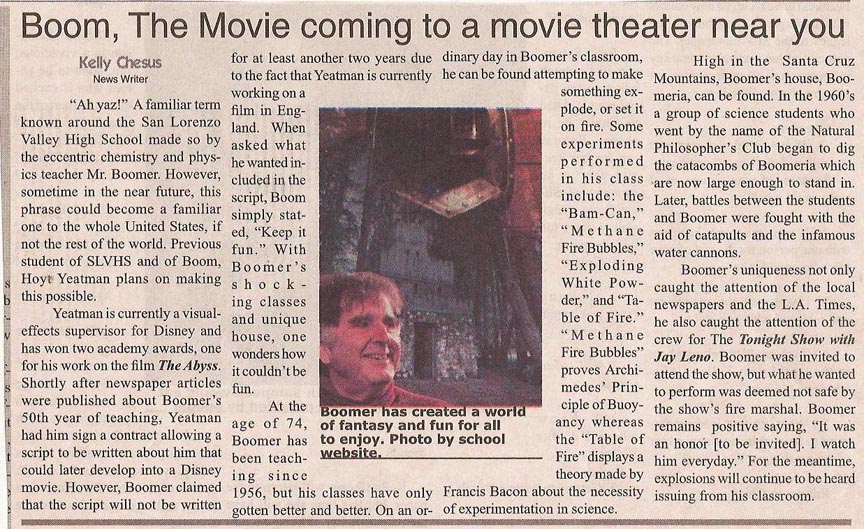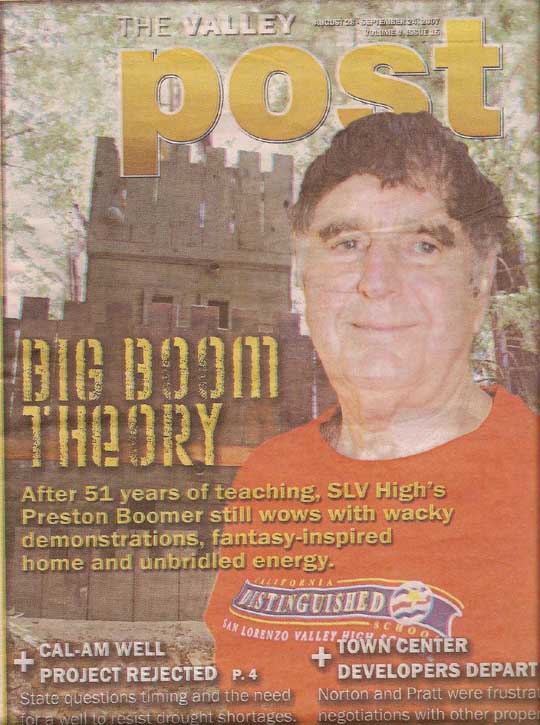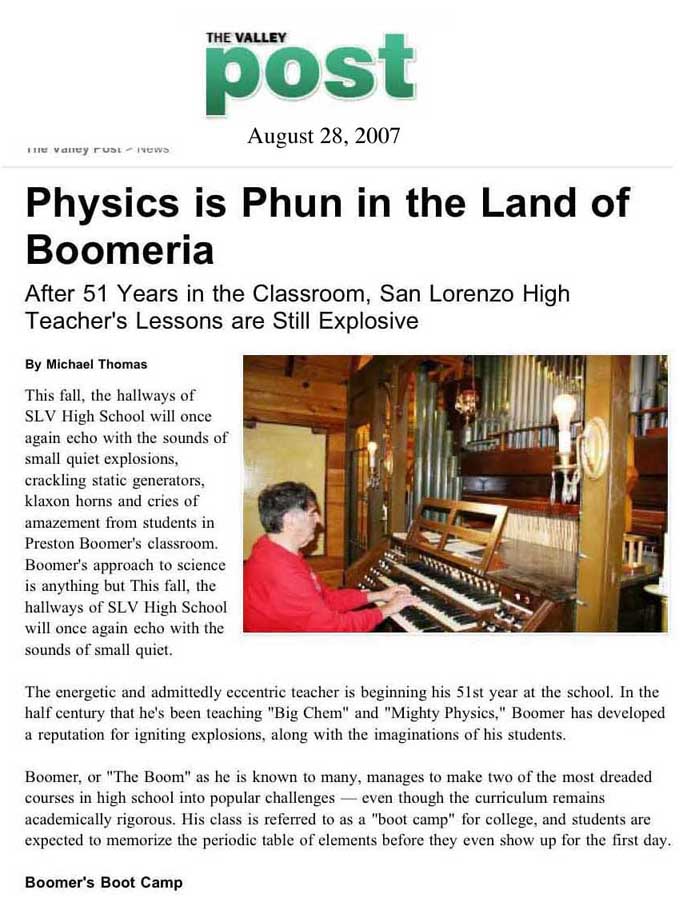 On that opening day, Boomer launches students into the historical roots of chemistry, starting with the "earth, air, fire and water" hypothesis. Early alchemists explored how things burn, so the class quickly heats up with his first demonstration.
Within a week, Boomer, who might be wearing a Shriner's fez or a wizard's cape depending on the day, moves on to the Middle Ages. It was then that Friar Roger Bacon introduced gunpowder, to Europeans. How does Boomer mark this pivotal moment in Western science?
"I blow it up," he explains.
Another classroom favorite is the methanol rocket. Boomer combines a two-liter soda bottle, a cap with a small hole and a few milliliters of alcohol to make a vapor-burning rocket. It's a dramatic demonstration of Newton's Third Law governing action and reaction. Rest assured, the rocket isn't careening entirely out of control.
"I run it on a string across the class … or the library during a staff meeting," he said.
Though his disdain for staff meetings is well known, Boomer's fellow teachers are accustomed to his unorthodox, and sometimes mischievous, ways. In fact, a number of them, including Vice Principal Brian Mercer, were former students of The Boom.
"I get a lot of emails from old alums and they start out the same way: 'Boom! You're still there!?" Boomer explains.
At the age of 75, he has no plans to retire. He's fond of saying that he'll leave the classroom when they drag his corpse off the demonstration table.
It's certainly hard to imagine Boomer retiring. What would he do with all his energy? Sitting in his backyard, he vibrates with barely restrained enthusiasm, shifting and rocking in a bench swing.
Before his ankles started troubling him, Boomer would pace so incessantly that maintenance staff would have to replace worn-out floor tiles in his classroom virtually every summer.
However, his stunts have, at times, sparked a bit off chaos. There was the incident, years ago, when he knocked out all the local police radios with his 1.5 million volt Tesla coil. The device, which is deafeningly loud, can transmit enough electricity through the air to illuminate a light bulb without plugging it in.
Boomer shrugs off the classroom visit from frustrated cops.
"That must have been about 50 years ago when police radios were still running on AM," he says.
In the Land of Boomeria
The Boom's Bonny Doon property is a domain of adventure and imagination, with a castle sitting atop a network of catacombs, watchtowers from which epic "water battles" were fought between bands of students, and a small chapel that houses his hand-built pipe organ. He raised two sons here with his wife, Sara.
In recent years, the water battles have mostly subsided, leaving Boomeria in a peaceful state. But the place is still a hub of activity. This summer, he hosted the annual Celtic Music Camp for the Santa Cruz Community Music School.
For two weeks, the place was overrun with 50 students, and Boomer's fantastical structures played a key role. For one performance, a watermelon was "executed" using a towering guillotine next to the castle, as students performed the music that was composed for the day on which Marie Antoinette was dispatched by the same method.
"You have to have appropriate music for that," he says.
The County Office of Education will conduct an in-service day at Boomeria next month. Hopefully, no one will get lost in the tunnels beneath the property.
The castle walls conceal hidden doors amazingly well. It takes some time to find the right spot where a push on the wall reveals a trapdoor leading down into the catacombs below.
These winding, subterranean passageways were excavated by San Lorenzo Valley High School students in the 1960s. It took three years to dig them, using only shovels and buckets.
"It's 120 meters of echoing terror," Boomer jokes as he hands over a flashlight.
The Tunnels
Terror certainly would be the reaction of any arachnophobic explorer. The corridors, reinforced in places by wooden beams and concrete, are so narrow that an adult must turn sideways to squeeze through the narrow places.
The tunnels connect to trap doors at strategic points all over the property, including a control room where an array of switches, valves and inexplicable gizmos allows Boomer to communicate with anyone, anywhere in Boomeria.
Ring the buzzer at the front gate, and his voice will respond with a taunting "Who goes there?" Fear not, everyone is welcome. If you've got water balloons, that's even better.
With secret doorways and gates controlled by chain-wheels, Boomer was well protected during the days when water cannons and eggs frequently pierced the sky at Boomeria. The motto here is "The King Always Wins."
While many battles would end with an attacker spending a night in the dungeon, Boomer admitted that "The King" was once briefly dethroned.
"There was a time about 40 years ago when they came up one night and they caught me," he recalls. "I spent the night in Boulder Creek in a barn."
Endless tales of mischief and music have emerged from Boomeria. Like the Halloween night when a sheriff's deputy had eggs thrown at his cruiser in Boulder Creek. A former student of The Boom, he drove up to Boomeria and asked the kids in the tower to spray the car clean.
Instead, they triggered a geyser of water from a cannon buried in the road beneath the car. The cannon, called the Goose, was capable of disabling a vehicle.
"In the older cars, it would kill the engine," Boomer explains. "In those days, there were no neighbors, so any car coming down had to be the enemy."
For the moment, the famed Goose is idle.
"We are having a drought, so we can't be wasting all that water," Boomer said.
The Pipes of Boomeria
In addition to the pipes that supply the water cannons, Boomeria is equipped with a rumbling compressor that supplies air through buried tubes to a grand, handmade organ in the chapel.
The pipe organ was built over the course of decades with help from Boomer's students and his two sons. Some of the pipes were salvaged from other organs, while others were hand built, like the wooden pipes crafted from redwood fence boards, putty and duct tape. The result is a magnificent array of glittering tubes that makes a mighty sound, indeed.
Boomer sees the laws of science manifested everywhere, and the organ is no exception. He explains how the closed tubes have odd harmonics that produce a hollow sound. The open tubes, with their even harmonic tones, produce a brighter sound. Combining different groups creates a seemingly endless range of sounds.
"It's the first kind of musical synthesizer … from about 2,500 years ago," Boomer explains.
It is on these keys that The Boom would play the Agincourt Hymn or some equally appropriate tune at the conclusion of a water battle.
"The Kids Are as Good as Their Grandparents"
Starting his second half-century at SLV High, Boomer has entered a realm of teaching history that few come close to. For some of his students, he can remember when their grandparents sat in his class.
Teaching an estimated 150 students per year, he has introduced perhaps 8,000 students to the marvels of chemistry and physics.
"That's a lot of corruption to pass along," he jokes.
Nevertheless, he is quick to point out the prodigious tenures of some of his colleagues, such as biology teacher Jane Orbuch.
"She has students in there on nights and weekends. I don't think she takes time out to eat. It exhausts me just to watch her operate," he says, offering a considerable compliment for someone with his tenacity.
Over the decades, Boomer has also seen changes in the community and the students that it produces.
"The year I started it was still a logging community," he laughs.
The character of the community began to change dramatically when Lockheed arrived and built a research and development facility in Bonny Doon, Boomer recalls. For a time, the company's activities were louder than Boomer's homespun antics.
"We used to be able to hear it from here," he says from the comfort of his yard chair. "There would be a siren and then a rocket going off."
Boomer said that San Lorenzo Valley High became more rigorously academic with the arrival of Lockheed employees and their children. He welcomed the change. In the late 1950s, the space race was also afoot and a wealth of new science curriculum was coming out.
"The government was putting big bucks in it," he recalls.
The world of science has changed tremendously since then. But Boomer has kept pace. Like most good teachers, he has continued to be a student, attending summer institutes at UCSC and elsewhere to stay abreast of the latest in science education.
He has embraced any change that made the classroom more effective, and was the first teacher at the school to generate multi-media lesson plans with PowerPoint. He discovered the tool while suffering through a painfully boring particle physics symposium at UCSC in the summer of 2000.
"In the afternoon, three high school teachers came on with PowerPoint. They had slides and video and all this stuff," he recalls.
Now, he tells students to leave their books at home for studying, as the class itself has become an interactive, multimedia experience. He chuckles with delight while showing off the video clips he has collected to demonstrate the principles of chemistry and physics.
In one clip he shows, the popular Discovery Channel show Mythbusters drives a car in and out of a moving 18-wheeler, proving that inertia makes television's Knight-Rider trick possible.
The segment was based on a letter Boomer wrote to the show's producers.
Other clips are more rudimentary. "There's a lot of good chemistry and physics on YouTube," he says. "In the old days, it was all 'chalk talk.' Now you see it. … It's still as fun as always."

Yearbook Dedication, 2007